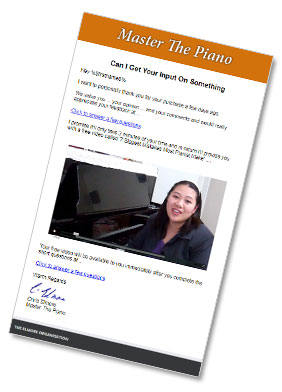 After users purchase access to our piano courses, we send a quick follow up a few weeks later to see what they thought of it.
Here are their responses we have received below for you to see.
Please note, these have simply been copied and pasted below without editing so there may be typos or words miss spelt.
Also please note we don't include their name or email for privacy reasons.
Here's their comments below for you to decide for yourself …
I like the combination of video and PDF's. It helps to see it both demoed and in written form.
The teaching and demonstrations are very clear and straightforward to follow and to learn quickly. Am not quite a beginner but as a self taught aspiring pianist this course is really excellent for the sale price. No regrets
I would certainly have no hesitation in recommending the piano course….its easy to understand and at the right price It has given me a greater understanding That I can apply to my keyboard….thank you
I learned a lot from this course, I liked the structure this series each scale followed the same pattern. The key signature sessions are good too.
Isabelle is a wonderful teachers thank you so much
Isabelle explains with such clarity! The course on piano chords explaining key signatures is the most in depth & easiest explanation I have ever had.
It was always a stumbling block for me. After studying that course, it was an aha moment for me. I have searched other courses on line & these courses are the most In depth & easiest to understand.
I am starting from scratch anf feel am already on the way still need dome paractise
It ideal for me, I am 79 years old
It is good to start learning
The course suits my needs so well. It explains the theory, demonstrates the piece & then slowly shows me how to play.it. It breaks it down & makes it easy to
understands.
I love it and wish I had more time to practice. I love learning the theory but made finitely need to practice more.
i REALLY ENJOY THE WAY MELLISA EXPLAINS HOW TO PLAY AND GIVES YOU SOME DIFFERENT CHOISES .
Very easy understandable lesson. Easy to follow.
The course is good and easy to understand I would recommend it to others.
A delighted to have accessto the programme, I just need time now to put it all into action. I have learnt so much even in the few things I have been able to view.
From what I have found so the course is very good and easy to follow. I like the fact that you can keep stopping the video and repaying the bits that did not sink in first time.
I like the teaching by video with the teacher i'm still struggling with my left hand coordination.
its was very good for beginner to start with..
I find this very easy to follow and it is helping make the progress I require without hassle of try to find a local piano teacher .am able to practice my own pace. I is very easy to review what I have learned .Am very impressed.
So far I am liking the program.
Well thought out lesson plans and comprehensive teaching style
I've just started the course so its early days. The video instruction is very good, I can understand the lessons clearly. I am sure I will make solid progress.
So long as I can keep learning I will enjoy my music making and you have been helpful….75 and learning to do what i love!!
The course is very precise and detailed.which is what I always look for with piano instruction courses.
I'm a 78 year old grandmother and is interested of learning piano. I started to learn self-study from the internet and a self-study piano book from Amazon. It's hard for me to understand how to read music, so I just learned to play by chords. I find it easier to play from songs that has chords already. Your video is okay, but i'm slow to learn.
Melissa's explanations were very clear and helpful.